Industrial 3D product design
Technical product design is especially relevant in industries whose products have a very short life cycle and high turnover. It is essential when it comes to making important product strategy decisions.
In recent years, industrial design has undergone a paradigm shift with 3D printing technologies. These make it possible to define the conceived idea and to have a 3D of the product or of the mould. This facilitates the manufacturing process and avoids errors before the product is sent to the production phase.
For this reason, AIJU offers you support in the scanning and digitisation of any part, mould or physical model that you wish to convert to a 3D CAD model. We also create the initial draft of the design so you can make decisions and choose ideas, as well as the industrial 3D Design of your product. This includes all the technical aspects that a good design should include, such as:
 Functionality.
 Aesthetics.
 Ease of assembly.
 Anthropometry.
 Ergonomics.
 Safety, certification, standardisation.
 Legislation, patents, trademarks.
 Productivity.
 Materials and manufacturing processes.
 Quality Control.
 Economic aspects.
 Ecological considerations.
 Psychological factors (colour, etc.).
 Operation of utensils.
 Electronics.
 Prefabrication (existing parts).
 Resistance of materials.
 Accounting and costs.
Our industrial 3D product design services
Design of initial sketches (Grasping your idea).
Initial contact with you in which we gather all the information that is relevant for the future development of your product.
3D digitalisation of parts and moulds to obtain CAD files.
The digitalisation of a part or a mould will primarily allow you to obtain information or a design from a previous product.
In addition, 3D digitalisation can also allow you to obtain a conceptual design of the part or product you want to develop.
Industrial 3D product design (3D CAD model).
We generate a 3D CAD, which will allow us to certify that the conceived model contains all the technical aspects that need to be taken into consideration. From here, it can be sent directly to an additive manufacturing machine. Once the generated model has been validated, it will be taken directly to machining to create moulds by injection, thermoform, extrusion, blow moulding, etc.
Also, body scanners allow you to create tailor-made products based on the body geometry of a model.
With all this, we provide you with scanning support to digitalise any part, mould or physical model and to convert it into a 3D CAD model. And we also advise you on how to optimise the development of your product.
Opportunities we offer you during the design phase of your products
 Generate highly creative ideas thanks to our multidisciplinary, interactive, extremely approachable and highly pro-active team.
 High standards of confidentiality.
 Obtain turnkey projects from simple freehand sketches or ideas, taking into account such aspects as safety, prototyping, CAD, CAE, injection simulation, 3D Scanners…
How to develop an industrial 3D product design
We recommend an initial meeting to address all the technical aspects that you want to bring to your product. Despite our own strict internal confidentiality controls, we are willing to sign the confidentiality contract that you provide.
We carry out a market study, designed to appropriately delimit the project.
Once we have compiled all the information, we will generate and send you a proposal for your acceptance so that the contracted work can begin.
We then begin the phase in which we generate CAD models of which, once we have achieved a good model, we will send you images or 3D files for your approval.
Once these have been approved, we will move on to the rapid prototyping phase, and if any feedback is required from you for any redesign, we will address this accordingly.
To conclude this service, once you have given your approval, we will provide you with all the information required to manufacture the product. The rights of the generated product will be exclusively yours.
 Unigraphics NX Siemens.
 Freeform.
 Geomagic Design.
 PolyJet technology.
 Sintered plastic and metal.
 Additive manufacturing with several SLA and FDM technologies.
 Vacuum casting areas.
 Finishing area.
 Validation of 3D models through virtual reality.
 Prototyping of electronic circuits.
 Coordinate measuring machines.
 Laser digitiser.
 Structured light / white light projection digitiser.
Multidisciplinary team that guarantees the success of your design
We place AIJU's multidisciplinary expertise at the disposal of the global approach that industrial product design requires today. This makes it possible to guarantee the success of your design and, consequently, the anticipated development of your product.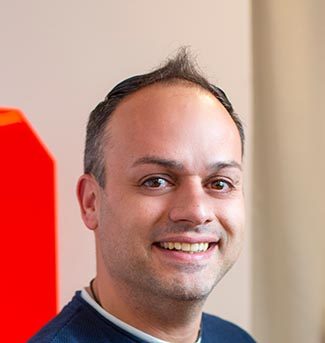 Ruperto Martínez
Industrial 3D product design
Tel: +34 96 555 44 75