Open training for workers and the unemployed
Each year, the AIJU organises over two hundred training actions of different types, training over 2000 students through some 8000 hours of training in different thematic areas, with special emphasis on technological and corporate contents with a high degree of innovation. These training actions include personalised training, courses, conferences or open sessions for different companies or types of students.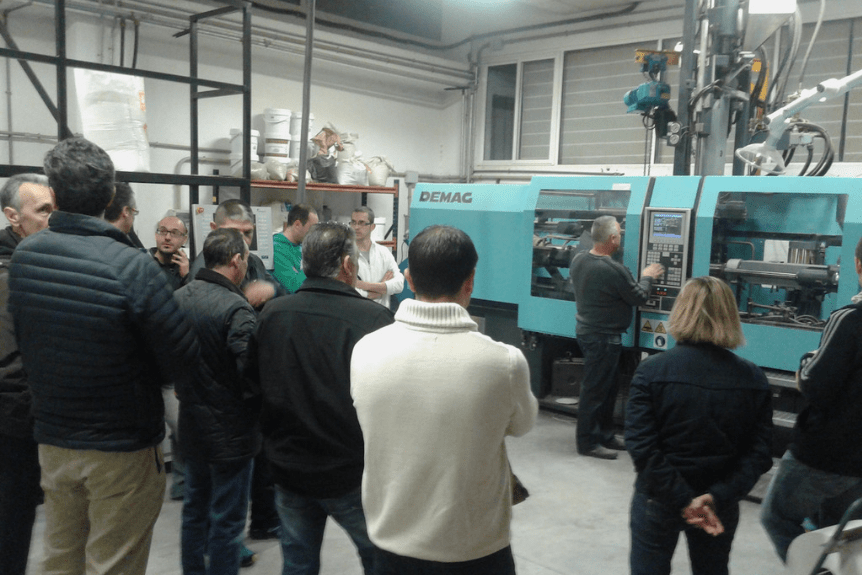 Benefits of open training for companies
Contact us and we will help you plan and carry out the training your company needs. We can integrate your proposal into our schedule of open courses which students from different companies or backgrounds can attend, or we can develop a tailor-made training solution for you, completely adapted to your needs.
 It costs less, given that the costs of teaching, management and facilities are shared among the different students.
 It can be subsidised in such a way that it becomes free of charge for the company
 It allows students to get to know how other companies work and the problems they face, thereby increasing their knowledge in the subject matter
 Classes are normally held at times that are compatible with the working activity of the companies
 Their duration is usually designed taking into consideration the industrial reality and dedicating 100% of the time to learning.
 As our teachers have an in-depth knowledge of the subject they teach, and considerable professional experience, their lessons are hugely applicable to the daily working environment.
 Proximity for companies in the province of Alicante and the surrounding area
 Each year, students give AIJU's open training actions an annual score of around 8.5 points out of 10. This high score confirms how satisfied our clients are with the training they receive, and it also confirms a real improvement in the formation of these people within their professional environment. Our best guarantee is our clients and students.
Free occupational training for unemployed people
AIJU regularly provides subsidised courses mainly addressed to unemployed people. Check out our educational offer by using the "price" and "addressee" search filters. You will find a list of the free courses we currently have available for the unemployed, estimated dates, access requirements, financing entities, etc.
AIJU is an inscribed/accredited entity in the Registry of Professional Training Centres and Entities for Employment of the Community of Valencia (LABORA) and in the registry of centres of the State Employment and Training Service (SEPE).
Professional certificates
Within the subsidised courses that AIJU regularly provides for unemployed people are different professional certificates in different fields, offering different types of professional qualifications which are in high demand in the business world. These professional certificates lead to official qualifications and include an internship module in companies, so that students, once they have finished the more theoretic part of the training, can put what they have learnt into practice in a working context for one or several months.
AIJU is certified by LABORA to provide more than 10 Professional Certificates and other specialisation courses aimed at the training of the industrial fabric.
The AIJU training area guarantees the quality of its activities by following the protocol of UNE regulations for the "Carrying out of Continuous Training Courses, Occupational Training and Conferences".
UNE-EN 9001:2015 certification and ISO 14001 Certification.
Free-of-charge subsidised courses for workers from the industrial sector of the Community of Valencia
The AIJU Training area usually manages several calls for courses in sectorial plans subsidised by different entities every year.
Most of the free courses held by AIJU are offered to trainees and companies without any cost because they are subsidised by a public institution, such as the Valencian Service of Employment and Training (LABORA, formerly the SERVEF), or the State Public Employment Service (SEPE). Check out or educational offer; under "price" and "recipient" you will find the list of the free courses we currently have available for employed or unemployed people.
AIJU is registered/accredited in the Register of Professional Training Centres and Entities for Employment of the Community of Valencia (LABORA, formerly SERVEF) and in the register of centres of the State Public Employment Service (SEPE).
The formation of sectorial plans subsidized by public organisms represents a major benefit for companies because it makes it possible for workers within the managerial fabric to improve their training in key areas of the different industrial sectors, thanks to the best professionals.